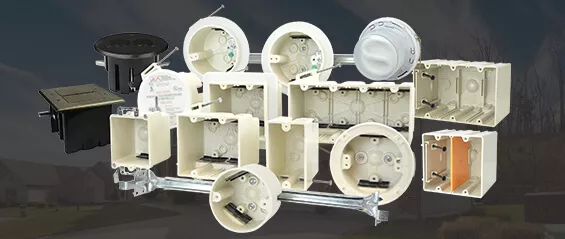 Allied Moulded Products, Inc. (Allied Moulded) is the Contractor's Choice of nonmetallic electrical boxes and enclosures in today's residential, commercial and industrial markets. Leveraging more than half-a-century of experience, Allied Moulded has grown to become the benchmark of quality within the electrical industry. Our achievement of ISO 9001:2015 certification is a testament to our company-wide commitment to providing our customers with a quality product. Our full-service molding operation includes expertise in compression and injection molding, using thermoset and thermoplastic materials, as well as our unique resin transfer molding process. Utilizing a modern, automated assembly process, we are pleased to provide our customers with a superior product at a competitive price. Our unrelenting focus on service, delivery, value, innovation and technology in everything we make and do, has made us who we are today.
Allied Moulded offers a full range of residential and manufactured housing products, including: fiberglass range/dryer receptacle boxes, floor boxes, lampholders, luminaires, and other products. Designed with both the electrical professional and the do-it-yourself home owner in mind, Allied Moulded's products have earned a reputation for strength, rigidity and innovation.
Allied Moulded's industrial enclosures can be found all over the world in many different control applications such as industrial & manufacturing plants, waste water treatment, wind turbines, security, SCADA, solar, marinas, data & telecommunications, mining, and more. Allied Moulded's extensive line of NEMA type 4X/IP66 fiberglass reinforced polyester (FRP) enclosures, made with our proprietary ULTRAGUARD® resin formulation, outperform our competitors in the areas of: yellowing, gloss retention, discoloration and change in texture. With a wide range of sizes, accessories and customizations available, Allied Moulded offers a complete solution to your industrial enclosure needs. In addition to fiberglass, Allied Moulded also offers our POLYLINE® series, a line of polycarbonate, injection-molded enclosures.
Crown Supply is your source for all Allied Moulded Products. Contact Crown Supply with any questions on your Allied Moulded Products needs.
To learn more about Allied Moulded Products, click here!