Events
Join us Tuesday, October 4th from 11 A.M. to 2 P.M. for our Block Party event at our Providence, RI branch. Meet with representatives from Eaton Wiring Devices and Load Centers, Fire-Lite Alarms, BRK, RAB Lighting, Ideal, Napco, ABB, InVid, DSC, Greenlee, Dahua, RBH and more. Come see what's new to our industry, watch product demonstrations and speak direct to the brand representatives about their products! This event is free to attend with free BBQ lunch and free raffle and prizes every 30 minutes.
The Ideal National Championship Competition will not have a rain date. It will take place indoors October 4th. Rain date for the Block Party is Thursday, October 6th. A few vendors may not be able to attend the rain date.
---
---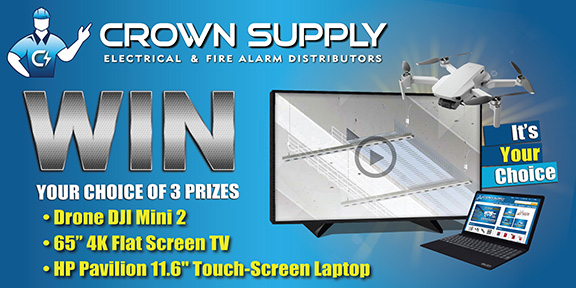 Crown Supply Quarterly Raffle Drawing
Crown Supply wants you to WIN your choice of 3 prizes

* DJI Mini 2 Drone
* 65" 4K Flat Screen TV
* HP Pavilion 11.6" Touch-Screen Laptop
• Enter to win at any Crown Supply branch
• Be sure you have an account with Crown Supply
• Purchase $350 or more on a single order (before sales tax) on select items or brands to receive one (1) raffle entry
• A Crown Supply Counter Associate will complete your raffle card and enter it into the drawing
• Winners have their choice of a prize from the following; a DJI Mini 2 Drone, a 65" 4K Flat Screen TV or a HP Pavilion 11.6" Touch-Screen Laptop

Stop by and get your raffle card today!
Congratulations to Crown Supply's latest winner, Brian who chose the HP Pavilion as his prize!