Events
NEW ENGLAND
ELECTRICAL & ALARM EXPO 2023
Twin River Casino, Lincoln, Rhode Island
Thursday, October 5, 2023
1:30 P.M. until 7:30 P.M.
An Expo for electricians, alarm contractors, engineers, property managers, general building contractors (residential & commercial), architects, designers, and so many other industry professionals. Learn about current technology and see the latest products in the electrical, alarm, lighting, and tool industry.
* FREE TRAINING SEMINARS TO BE ANNOUNCE THIS SUMMER

* 400+ MANUFACTURERS WILL BE REPRESENTED AT 1 EVENT IN THE ELECTRICAL, LOW-VOLTAGE, ALARM, LIGHTING & TOOL INDUSTRY

* EXPO ONLY SPECIAL PRICING

* FREE ADMISSION, FOOD, AND DRINKS! PLUS PRIZES EVERY 15 MINUTES!

Online registration for trainings and to pre-register to attend will be available this summer!

EXPO WEBSITE www.NEEAE.com
---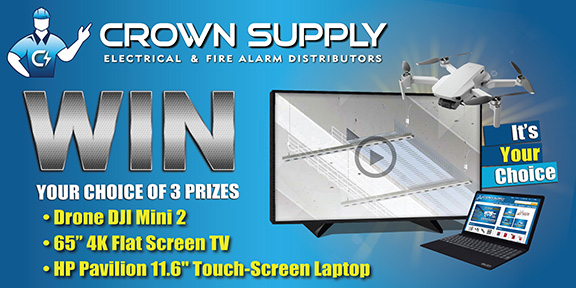 Crown Supply Quarterly Raffle Drawing
Crown Supply wants you to WIN your choice of 3 prizes

* DJI Mini 2 Drone
* 65" 4K Flat Screen TV
* HP Pavilion 11.6" Touch-Screen Laptop
• Enter to win at any Crown Supply branch
• Be sure you have an account with Crown Supply
• Purchase $350 or more on a single order (before sales tax) on select items or brands to receive one (1) raffle entry
• A Crown Supply Counter Associate will complete your raffle card and enter it into the drawing
• Winners have their choice of a prize from the following; a DJI Mini 2 Drone, a 65" 4K Flat Screen TV or a HP Pavilion 11.6" Touch-Screen Laptop

Stop by and get your raffle card today!
Congratulations to Mike, Crown Supply's latest winner who chose the 4K 65 Inch T.V. as his prize!