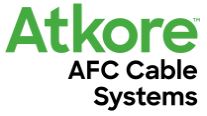 In 2023, AFC turned 97!
First opening our doors in 1926, AFC has grown and evolved over the years to bring our customers innovative cable and related products that save time, labor and cost.

Many of these Legacy products are still in use today, and the innovation doesn't stop there! AFC recently launched two new MC Luminary® family products: MC Luminary HCF® and MC Luminary MultiZone®.

Crown Supply stocks a variety of AFC cable products including MC Cable, Parking Deck Cable, Feeder Size MC Cable, Fire Alarm MC / Specialty Cables and more. Contact a Crown Supply representative for any of your AFC cable needs.
To learn more about Atkore AFC Cable Systems, click here!