WPI Researchers Receive Grant to Examine Green Building Fire Safety
Category: Blog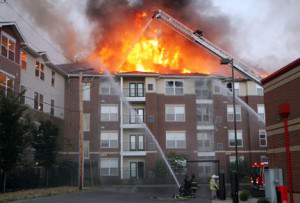 A team of fire protection engineering researchers at Worcester Polytechnic Institute (WPI) is investigating the fire safety risks associated with green construction. The WPI team is working with a $1 million grant from the U.S. Department of Homeland Security, which will fund a three-year project aimed at identifying and reducing the potential for firefighter and occupant injuries and deaths that could be associated with unanticipated hazards posed by green building elements.
This research will begin to quantify the fire hazards and risks, identify ways to mitigate those hazards and risks, and prepare the fire service to fight fires in buildings with green features and elements. These are all needs identified by the National Association of State Fire Marshals, the Fire Protection Research Foundation, and the National Fire Service Research Agenda, which are interested in understanding and addressing how the challenges of green or sustainable buildings impact firefighter safety.
For more information, go to www.wpi.edu.