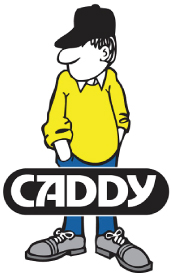 CADDY was founded and is based in the United States, but has a wide global footprint with manufacturing plants throughout the United States, the Netherlands, France, and other regional hubs. With a commitment to serving the customer with the best and most innovative products on the market, the nVent CADDY team maintains visibility into the manufacturing process from start to finish.
The very recognizable CADDY Man has had a few transformations over the years, he still wears his trademark yellow shirt, has his hands in his pockets, and works smarter and safer - waiting on the rest of the job site to catch up to his job well done. He's an installer, just like the people who use the same, time-saving nVent CADDY products!
Crown Supply is your source for all Caddy products. Contact Crown Supply with any questions on your Caddy needs.
To learn more about CADDY, click here!